This is definitely one of those weekends where I know I should be productive but the rain and overcast sky is making me want to lounge around in my lounge-wear and accomplish absolutely nothing. So far I've done a little laundry and I've cleaned my bathroom. I know, exciting right? While lounging around I decided to draw some preliminarily abstract chevron patterns for my bathroom. Better to plan out the colors now, right? Well, after drawing and scheming for about 15 minutes I decided "screw this." The area I am painting is small and there is a toilet in the way. So collectively I decided if drawing it on paper sucked, then drawing on a tiny wall that I can not move around is going to suck more. As it stands right now, the idea of abstract chevron in my bathroom has been scratched.
Now, I am thinking stripes because I'm lazy and they are easier. But do not deny the fact, that my heart is still set on a floral pattern if only a peel and stick that was affordable came in a floral.
I thought perhaps I could do different shaped horizontal stripes in different colors. This way I could incorporate all those fabulous colors I want to without it being too repetitive.
thenest.com
Or perhaps I could keep it even more simple, do with white and two shades darker than the color. Nice even stripes for a nice clean look.
unknown source, pinterest.com
Or maybe I should go for something diagonal. It would be more artistic and fun. I could make them abstract like this using all those fabulous colors.
M Design Interiors
Or maybe symmetrical diagonal stripes. They are nice and safe.
Floto + Warner
Or maybe, just maybe, since I want floral I could always go for a birch tree wall stencil. Although this is wall paper, you get the idea.
Jenny Wolf Interiors
Or a floral wall stencil from royal designs. Crap I don't know, why can't something just chose me. Maybe in the next couple of weekends I will have it figured out.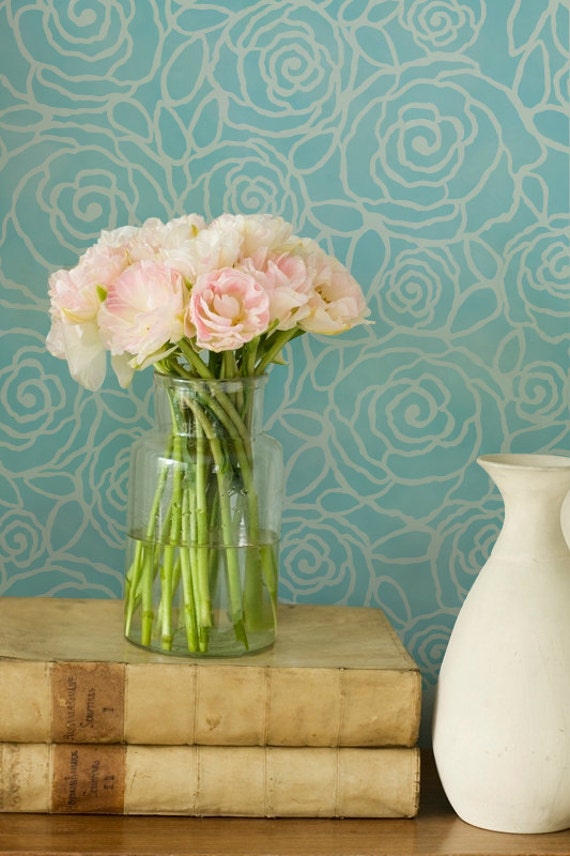 Royal Design Stencils