Well, I am back from vacation. I am well rested and ready to tackle my living room. I am very excited with all the projects I have ahead of myself. For starters, here is a photo of the area now. It includes my kitchen and breakfast nook.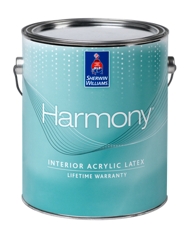 The photo is a little dark, but yes you are correct, the walls are all beige. Botany beige to be correct. I have chosen Sherwin Williams Fawn Brindle for the entire area since it is open concept. There is a large entertainment center on the right side wall next to the floor lamp. It's from Ikea & has served us well. I had plans to replace it with credenza
whenever I found a credenza
but I have now decided to just perform some plastic surgery. It's too tall so I've decided to make it shorter. There are a couple of items I have to purchase & I am waiting on the coffee table donation to come through. I plan to have to project completed by the end of June with the painting beginning this upcoming weekend *happy dance* I will be using the Sherwin Williams Harmony since the area I am painting is the most frequented room of the house & the mister hates paint smell. Plus Sherwin Williams is having a Memorial Day Sale- 30% off Paints and Stains May 20-28. Needless to say, I am busting at the seems with excitement and want this week to end pronto! I will keep everyone updated. Bis dann!
S