Thank goodness I am on the last leg of the semester. I am totally ready for summer break. I am ready not to have any homework and free weekends until August. Unfortunately the weekends leading up to summer break are very busy with a visit from the in-laws and final semester assignments.
So these last couple of weekends, I have slacked on the projects. I painted my bathroom a couple of weekends ago. I purchased a rug for the bathroom. And that's it. I was considering using re-positionable wallpaper but the cost is really deterring me from it. I don't want to spend a hundred bucks knowing that I might get sick of it and change it in 2 years or so. I'm trying to pay for school tuition damnit! Every dollar counts. So I went back to the idea of a stencil. Then I started thinking about stencil designs. Right now it's a tie between chevron and floral. Right now, chevron is winning.
Maybe an ombre effect. It would be a nice way to incorporate the navy trellis rug I purchased. I can achieve this look easily with painters tape.
unknown source, pinterest.com
Maybe navy and gold chevron like this skirt. Would that be too bold? Also another painters tape project that would require the purchase of some Martha Stewart Metallic Gold Paint.
unknown source, pinterest.com
Perhaps something more abstract and in different colors. This might take a couple of days to get all the colors in. Gold Paint would also work here.
Mark Chamberlain Painting, apartmenttherapy.com
Or I could go the stencil route instead with this Ikat Zig Zag stencil. Quick with the stencil, no measuring and cutting required.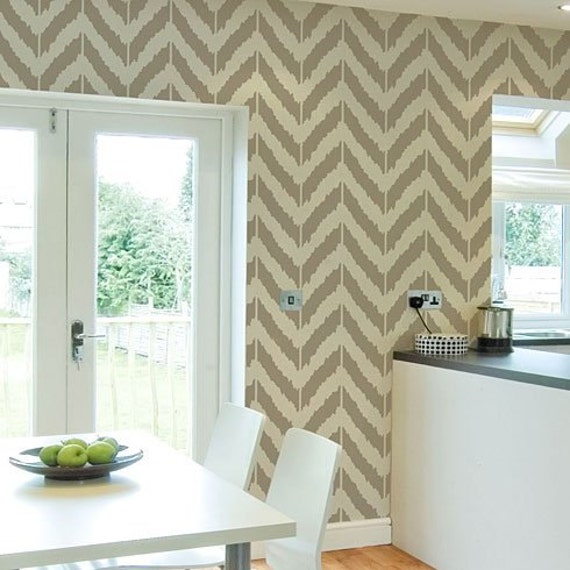 cuttingedgestencil.com