This morning I woke up realizing that I start a new semester of school this month and that I have no clue which day that is nor have I rented my text books. So first thing this morning was to take care of that and I am glad I did. School starts in little over a week. For some reason I thought it would be later than that. Oh well, crisis averted.
Today Andy and I are going into town for a trip to West Elm. I am excited to check out the new collection. They new blues in upholstery are very pretty and I am totally grabbing swatches of them. Also, I will bring back reviews of some of the new items I see on the floor. In addition to that? Who knows, maybe some Vietnamese food.
I purchased a Rast from IKEA in order to give it a tiny makeover for Andy's bed side. I do not think I will be getting to it this weekend. Maybe assembled but that's about it. I need to get caught up with some laundry and some light cleaning plus there is today's trip into town and Prince is getting a hair cut. In lue of show casing my Rast project, here are some great bedside table ideas to inspire you.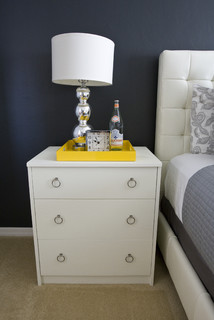 Eclectic Bedroom
Organize your bedside with a filing cabinet. You can get them used and cheap.
Paint it a bright fun color to revive it from it's former cubicle life.